18th May, 2018
Amet Insurance Offering Hauliers Flexibility and Local Expertise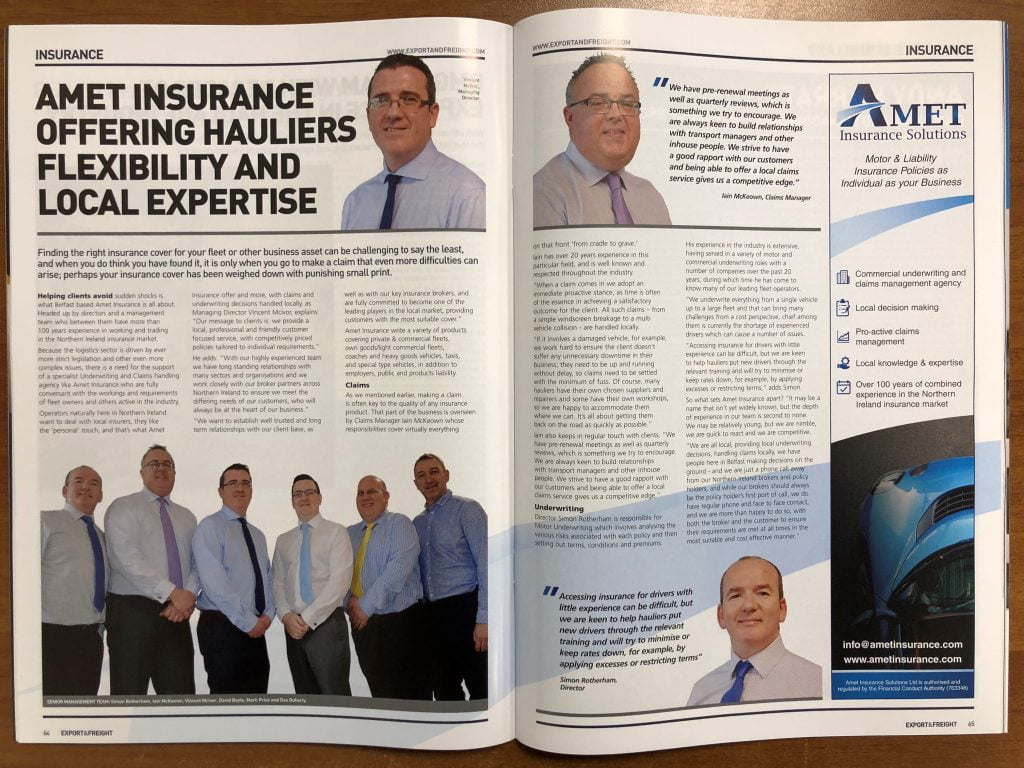 Amet Insurance feature in the May/June edition of Export & Freight. An excerpt is below. Grab a full copy online HERE
Finding the right insurance cover for your fleet or other business asset can be challenging to say the least, and when you do think you have found it, it is only when you go to make a claim that even more difficulties can arise; perhaps your insurance cover has been weighed down with punishing small print.
Helping clients avoid sudden shocks is what Belfast based Amet Insurance is all about. Headed up by directors and a management team who between them have more than 100 years experience in working and trading in the Northern Ireland insurance market.
Because the logistics sector is driven by ever more strict legislation and other even more complex issues, there is a need for the support of a specialist Underwriting and Claims handling agency like Amet Insurance who are fully conversant with the workings and requirements of fleet owners and others active in the industry.
Operators naturally here in Northern Ireland want to deal with local insurers, they like the 'personal' touch, and that's what Amet Insurance offer and more, with claims and underwriting decisions handled locally as Managing Director Vincent McIvor, explains: "Our message to clients is: we provide a local, professional and friendly customer focused service, with competitively priced policies tailored to individual requirements."
He adds: "With our highly experienced team we have long standing relationships with many sectors and organisations and we work closely with our broker partners across Northern Ireland to ensure we meet the differing needs of our customers, who will always be at the heart of our business."
"We want to establish well trusted and long term relationships with our client base, as well as our key brokers, and are fully committed to become one of the leading players in the local market, providing customers with the most suitable cover."
Amet Insurance write a variety of products covering private and commercial fleets, own goods/light commercial fleets, coaches and heavy goods vehicles, taxis, and special type vehicles, in addition to employers, public and products liability.
Read the rest of the Article on the Export & Freight website HERE